Welcome to our first Paper Adventures Team Blog Hop for 2019! If you are joining me from the lovely Lisa Whitehead's blog it's great to have you here! Please be sure at the end of my blog you click on the next button to hop on through to see everyone's amazing water themed creations. I would also like to welcome our Guest Designer this month, Leonie Schroder. Welcome Leonie, I can't wait to see what you have created to show us!
New Year means new stamps for me and I received my box of Stampin' Up! goodies this week from the new 2019 Occasions catalogue. I wanted to use the Best Catch Bundle for my Dad's Birthday and I am so glad this stamp set arrived just in time!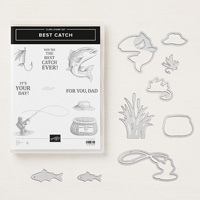 Perfect stamp bundle for a water themed card. I decided to get a little messy or as my kids say I look like I am back at Kindy when I am watercolouring, I will take that as a compliment I guess!
To create the background on this card, I used Shimmery White card stock and spritzed it with a decent amount of water. I used my pool party ink pad to create a soft light blue sky using my aqua painter. Then I got messy with my Brusho's. I love this stuff, add as much colour as you want. A little bit of this crystal powder goes a long way, I added a small amount then spritzed my card stock again. This is when the magic happens. Keep adding water or Brusho crystals until you are happy with the end result.
To colour my fish (I am calling it a salmon as Dad and I love to go salmon fishing), I used an aqua painter with Bermuda Bay, Blueberry Bushel and Smoky Slate ink pads. Shimmery white or watercolour paper is best for water colouring. On this card I used Shimmery White.
I love how the fish die cuts the flipper of the fish to make it 3D like. Love the design work that goes into our products! There was already some shimmer on the fish from the Shimmery White cardstock but I decided I needed a bit more shimmer so I spritzed it with some champagne shimmer paint.
Finished off this card with some silver metallic thread behind the stitched label die sentiment. I really liked this addition as it looked like fishing line to me.
This bundle is a must have especially for masculine cards. So nice to start the year off with a birthday card I know my Dad will love.
Thanks for stopping by today, next up on the blog hop is my lovely friend Kelly Kent, please make sure that you click on the next button below to see what the rest of the team have made.
Catch ya next time (excuse the pun!),
Mandy x
Product List