Hello and welcome to what has become an annual blog for the one and only Kelly Kent. It is Kelly's Birthday month and what a way to celebrate with a birthday blog hop with all her stamping friends! If you have made your way here from Michelle Strazds blog, welcome it is great to have you here. This blog hop is filled with some amazing talented Stampin' Up! demonstrator friends so be sure to click your way through the blog hop to see what amazing projects everyone has made.
Kelly is my very talented upline but she has also become my very good friend. Kelly loves birthdays so I am grateful that I can share this special day with her.
I couldn't go past the Everything is Rosy bundle to make a birthday card for Kelly.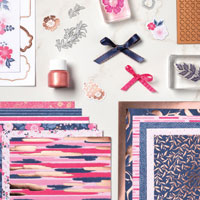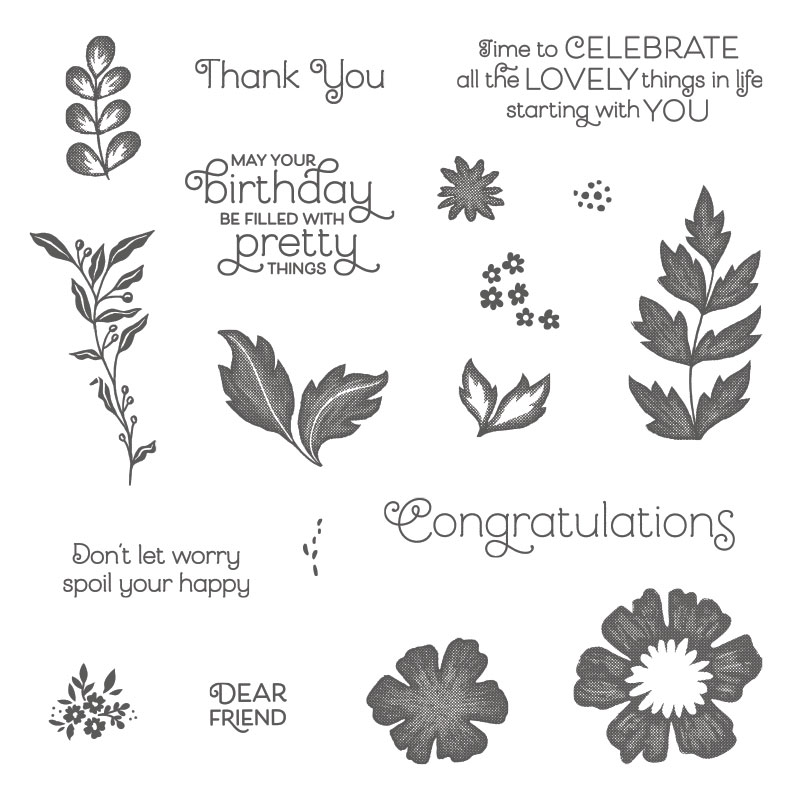 The Designer Series Paper (DSP) in this bundle is just gorgeous! It makes me so happy I get 48 sheets of double sided 6 x 6 paper in this set as well as 8 sheets of stunning Rose Gold Foil!
The Everything Is Rosy Product Medley includes these exclusive products:
Everything Is Rosy Photopolymer Stamp Set—18 stamps; suggested blocks: a, b, c,
Everything Is Rosy Dies—10 dies; largest die 2-7/8″ x 1″ (7.3 x 2.5 cm)
6″ x 6″ (15.2 x 15.2 CM) Designer Series Paper Stack—48 sheets; 8 each of 6 double-sided designs
6″ x 6″ (15.2 x 15.2 CM) rose gold foil paper—8 sheets
Printed die cuts—2 sheets
Rose gold die cuts—4 sheets; 2 each of 2 designs
Rose gold adhesive backed mirror embellishments—60 embellishments; 1/4″ (6.4 mm)
Melon Mambo 1/4″ (6.4 mm) Ruched Ribbon—10 yards (9.1 m)
Night of Navy/Rose Gold 3/8″ (1 cm) Metallic –Edge Ribbon—10 yards (9.1 m)
Rose Gold Shimmer Paint—1/2 oz. (15 ml)
Just look at all the amazing products you get in this set! All for the cost of $139.00. Such good value! If you love it, order it soon as it is only on sale until 31 May or until sold out. You can access my store anytime by clicking here.
Navy, Melon Mambo and Rose Gold what is not to love about this set? I am so in love with it (you can probably tell by now haha!).
My favourite sentiment combo at the moment is the Well Written dies paired up with the words from the Well Said stamp set. A must have combo in my opinion for all kinds of sentiments. The word "happy" is cut out of the rose gold foil paper. I love how the classic label punch is the perfect size for punching out a lot of the words from the well said stamp set.
I used one of the rose gold die cuts layered over the top of a pearlized doiley. Added a melon mambo flower and night of navy leaves for a pop of colour. Kelly loves pink so I have added a strip of the melon mambo ruched ribbon. So pretty! Vellum leaves placed behind the rose gold die cut to finish this card.
The sentiments in the Everything is Rosy stamp set are lovely. I have used one for the inside of the card….
and used another on the pretty label on Kelly's gift bag package.
Happy Birthday Kelly, I hope your day brings lots of fun and happy memories just like a birthday should.
I promise next time I blog something it will be something new!
Next up on the blog is the super talented, Rochelle Blok. I just know that you are going to love what she has made. Be sure to click the next button below.
Thanks for visiting today,
Mandy x
Product List